We imagine video sales pitches are a new media of today.
However on Monday, May 27th, 1957 Milt Grant made this perfect Business to Business sales pitch for his TV show: "The Milt Grant show" that aired 7 days a week.
The pitch is about selling advertising time on his show to sponsors.
View the video on YouTube (non embeddable)
The B2B pitch
Intro: the privilege for you
"Gentlemen I'm about to offer you the best television buy in the world."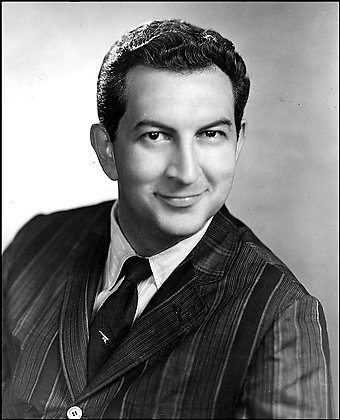 As if it is a privilege for only those who are watching. He permits you to know about his secret.
Build confidence by his assets:
- Top disk jockey
- 8 years in the business
- Large salary: in order to prove he is a professional and knows how to do business
New concept for you:
The announces the new concept: a TV show and a disk jockey show combined
Pep Talk and pressure:
"We have a winner"
The stimulating pep talk
Immediate success: "in just nine months the number one program"
Thus get in now before it is to late.
The numbers:
Then the numbers on the audience in order to show the reach, coverage and importance.
The concept:
The ingredients of the concept counting on his fingers
- Top records in order to get big audience
- Big name stars
- The live audience sampling for your clients products
It would have been better if he could have used his five fingers.
The references:
Big brand names: Motorola, Pepsi Cola, The Music Box stores.
Make sure you are not lagging behind the retail leaders.
The benefit:
The Music Box Stores have increased their business 25% (thanks to the show? No prove)
The biggest benefit of all: significantly more business.
Recapitulating:
- The concept
- The winner
- The achievements and the increasing reach
Just in order you would not forget the major benefits.
In these times replaying a movie was not at a push of a button on screen as now online.
Closing:
"Gentlemen this is a combination of sales, showmanship, audience and price that makes the Milt Grant show the best television buy in the world."
The great success cocktail at a fair price is the best buy in the world.
How could he know about the world in those days?
Uniqueness of performance
The greatness of the pitch is also in the facts that:
- No visual effects
- No visual artifacts
- No color
- No cuts – just one shoot
- No camera movement
are being used.
Just Milton Grant and addressing you through the camera.
He is building a relationship and radiating confidence.
Milt Grant earned about $26,000 a year in 1957, what was very well paid then (about $250,000 currently), but probably owed it as he could sell his TV show and himself very well.
The great pitch and unique opportunity
During his pitch he is motivating you to buy into his unique offering:
- That feels as if it is offered specially for you, thus don't hesitate with your decision as others will grab the opportunity.
- That is a one time opportunity allowing participating in his success story.
You could use this pitch again; just change the words, numbers and references in order to relate to your business and sell.
The video sales pitch hasn't changed in 50 years!